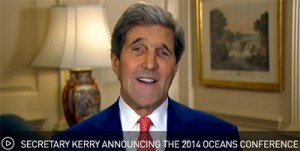 Next week (June 16-17), the U.S. Department of State will host the 'Our Ocean' Conference (http://ourocean.info/). The conference will bring together individuals, experts, practitioners, advocates, lawmakers, and the international ocean and foreign policy communities to gather lessons learned, share the best science, offer unique  perspectives, and demonstrate effective actions. The conference aims to chart a way forward, working individually and together, to protect Our Ocean.
In addition to Keynote Addresses, the conference will have a series of panels to discuss:
- Sustainable Fishing
- Marine Pollution (marine debris and nutrients)
- Ocean Acidification
 
Carol Turley, member of the MedSeA consortium and of the scientific steering committee will contribute to the session on ocean acidification. The conference will be broadcast live on the internet. More details will be available on the conference website http://ourocean.info/ by Monday morning.
 
The conference also will have a live twitter feed (#ourocean2014) during each of the discussion sessions ? tweets will be shown on the screens and also selecting one or two for the panel moderators to ask the panelists.